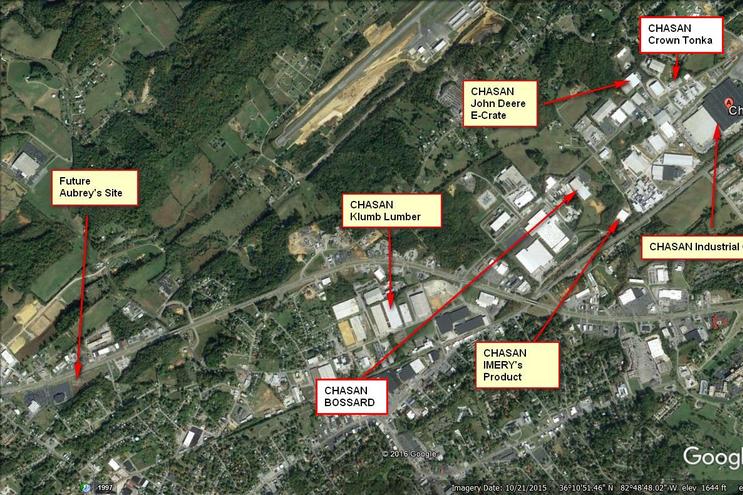 CHASAN, LLC Industrial Complex (Former Magnavox Building) is located in Greeneville, within 30 miles of Interstates I-81, I-40, and  I-26 and 75 miles of I-75; and is within 600 miles of 75% of the U.S. population.  As a result, CHASAN's properties are ideal for distribution or manufacturing.  It is also within minutes of Pigeon Forge (and Dollywood), Gatlinburg, the Smoky Mountain National Park, seven TVA lakes and reservoirs.
CHASAN has more than 1,100,000 square feet of "food grade capable" space under one roof, as well as an additional 600,000 square-foot of warehousing/distribution facilities in Greeneville.  Currently the company has more than 18 tenants occupying CHASAN facilities.  These tenants provide employment for more than 550 people.  The company has additional space available and is poised to build additional square footage on the facility's 100-plus acres as the need arises.  CHASAN can provide clients space to fit their specifications.
Services include warehousing and manufacturing space leasing, as well as full-service warehousing, logistics, flat bed and box trucking services, a rail spur siding, cross docking, trailer and container drop lots, repackaging, freight consolidation, LIFO/FIFO inventory controls, pallet wrapping, and product assembly. 
Contact Info:
Ricky Shepherd, Vice President, at (423) 329-7527, email [email protected]
Charlie White, President, at (865) 712-0500, email [email protected]
Marlin White, Treasurer, at (615) 924-3261